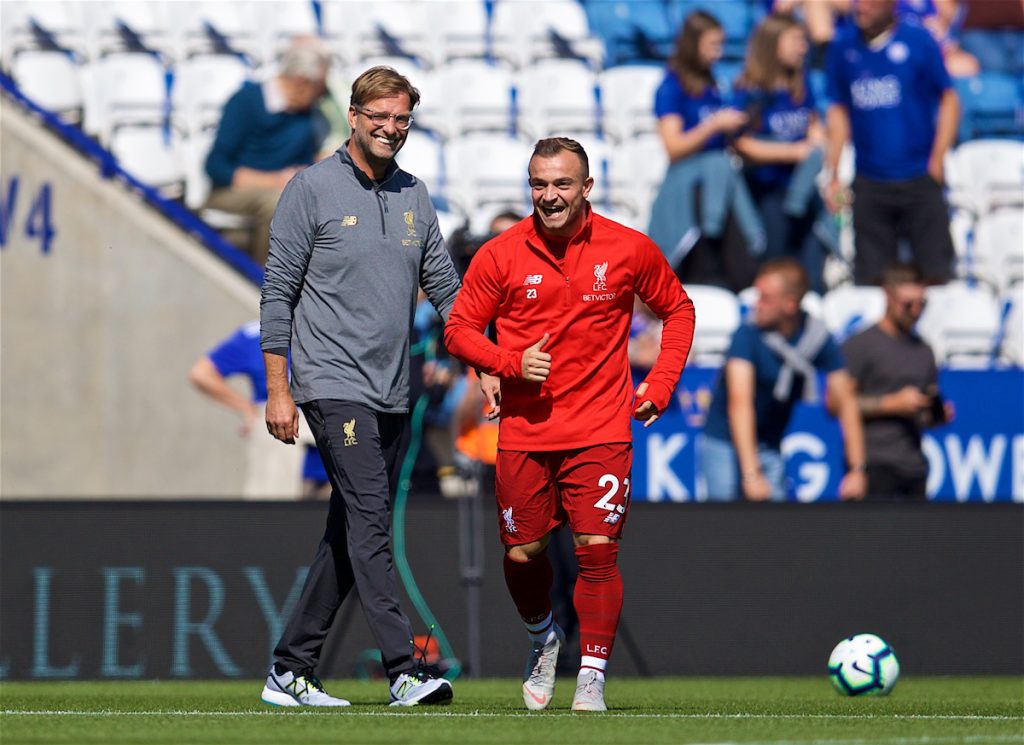 FOUR years is a very long time in football. Four years ago, Jürgen Klopp was the manager of Borussia Dortmund. Four years ago, a 23-year-old Xherdan Shaqiri was on the fringes of the Bayern Munich squad. As Bayern visit Anfield for the first time...

ARE you ready for the next two weeks" Between now and March 3, Liverpool play Bayern Munich, Manchester United, Watford and Everton. It is unlikely to be a gentle period, but how boring would football be if it was" After putting up with the...

JÜRGEN Klopp has used a line a few times while at Liverpool about a match being one he would pay to watch if he was a punter. I like that line because sometimes you wonder how it is to be on the inside of football. Anything ? no matter how good...

IS this the least important really important game we?ve played all season" Bear with me. We?re all in for this league title. The Reds may not win it but the attitude has to remain that they?ll die trying. Of course we want to win the league and...
WE are really excited to announce today we are partnering with Statsbomb to add to The Anfield Wrap's coverage of The Reds. Statsbomb are one of the most exciting and innovative statistical companies covering Europe's top leagues and...

WHAT?S the first image that comes into your head when you think of May 25, 2005" Liverpool Football Club?s finest recent triumph, the hazy Ataturk night which witnessed a footballing miracle so spectacular none of us can barely comprehend it?s...

MANCHESTER City are the bookmakers? favourites to retain the Premier League title, and there isn?t a Liverpool player, coach or fan who seems to mind that too much. That?s got to change eventually. Liverpool teams have been wonderful underdogs...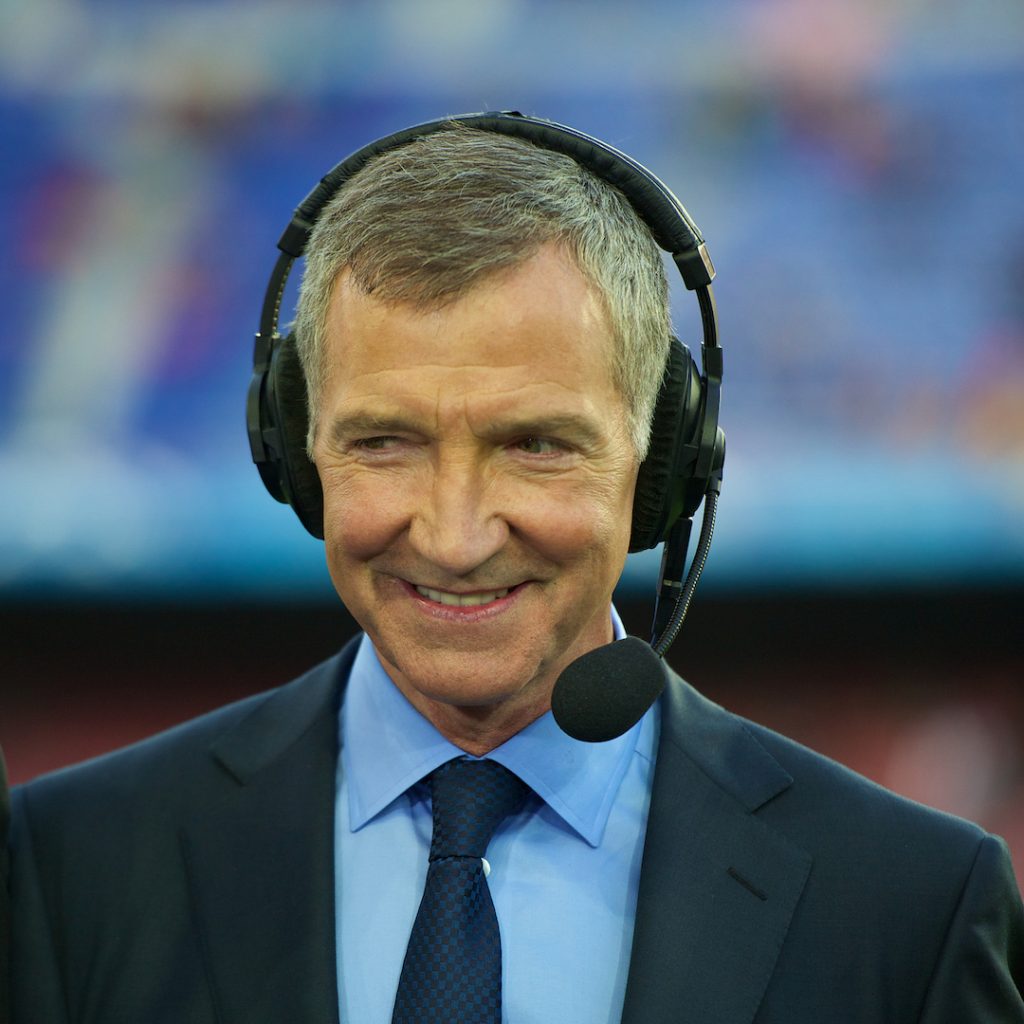 THERE are times when the very existence of a debate is more embarrassing than the issue itself. A time when you seriously have to scratch your head and wonder why someone has a problem with what seems like a straightforward development. It?s 2019....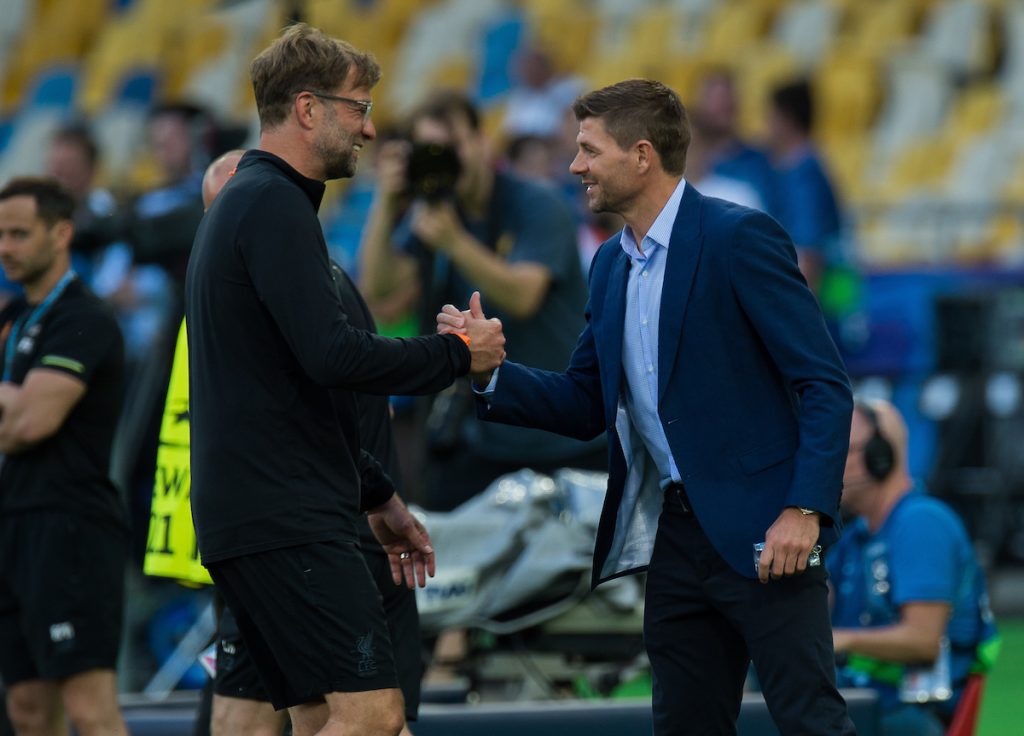 WHEN Steven Gerrard was appointed Liverpool under-18s manager ahead of the 2017-18 season, all eyes were feasted on The Academy. It was a move that brought about great interest from the outside, as well as a lot of good feeling on the...

SMILES were back on Liverpool faces at Anfield on Saturday as three points were secured against Bournemouth. It was a performance befitting of one of the most electric sides in football, and saw them entertain the masses and briefly take their...

SATURDAY was great. A win always helps, great goals always help, but it was much more than that. From the widely shared call to arms from The Spion Kop 1906 lads last week, to the rallying cry from Kenny Dalglish on the eve of the match, to the...

NORMAL service resumed" In a sense, yes. Liverpool cruise to victory against reasonable mid-table opposition, keeping a clean sheet, the question more about how many rather than how. In that normal service sense, Mo Salah hits the bar, elicits...

GO 'ed, the boys. That was perfect, that. Alisson: 7 Made saves when he needed to. First minute fella was good. His starting position is perfect, all of the time. Milner: 8 Busy as a pip. They are busy, them little pricks. Did he cross it...

LIVERPOOL defender Nathaniel Clyne has had a very good week. The defenders emergence as an indispensable missing link following draws against Leicester City and West Ham United has coincided with levels of sheer panic being displayed by some...

SOCIAL Media is hard work nowadays, isn't it" Everyone so keen to tell you what they think about everything and with so much certainty. Twitter is fast becoming a place where no one has ever been wrong and no one has ever changed their mind....

YOU don?t know you?ve been in love until someone breaks your heart. You don?t know just how much you support your team until they really piss you off. My 23-year-old son was in the away end at West Ham. His allegiance is one reason that I take...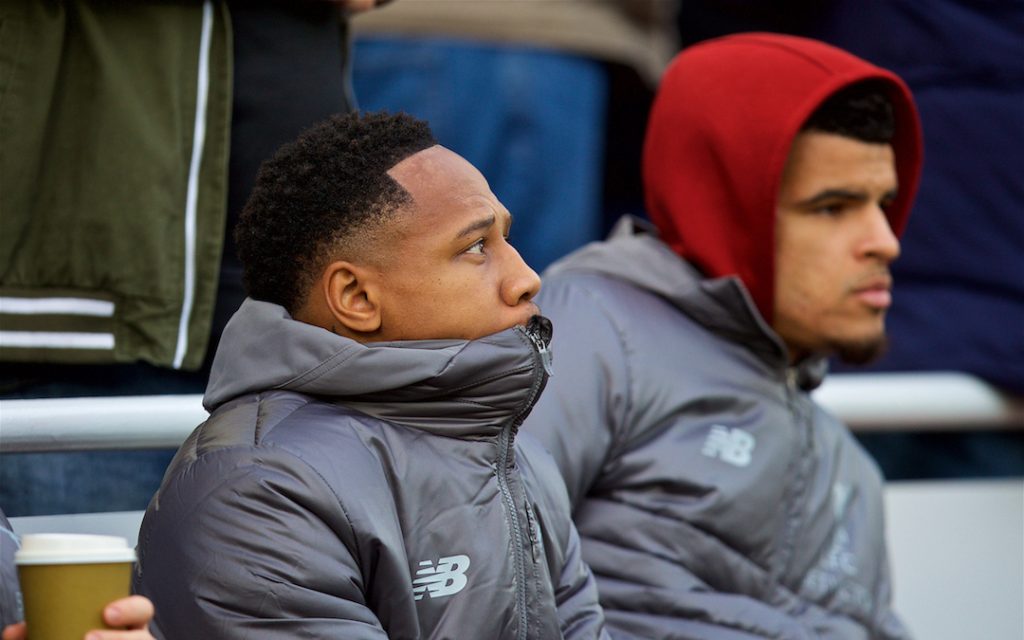 THERE?S a strong sense that we?ve been here before with Liverpool, at the moment. In my football-conscious life at least, The Reds have mounted two serious title challenges; 2009 and 2014. In both those years there were questions, more so with the...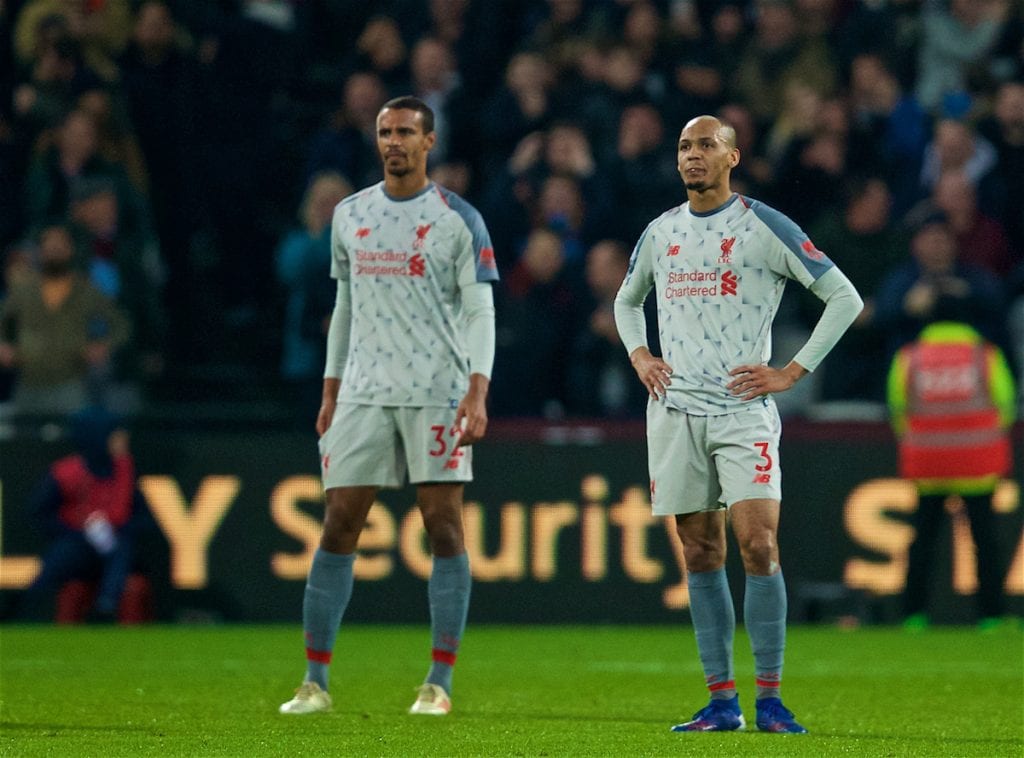 ?A SELF-fulfilling prophecy is a prediction that directly or indirectly causes itself to become true.? Cojones is a Spanish word, and a loan word in English, that can mean: Testicles, in profane slang. Courage or boldness, as in the expression...

THINGS that are blows: – The lack of chances created. – The equaliser. – The last minute missed opportunity. Things that aren't blows: – The league table. The league table still shows Liverpool top of the pile with a healthy...

SO, I?ve had a shit week. How about you" Monday night saw Liverpool potentially hand the momentum in the Premier League title race back to Manchester City, just five days after having the opportunity to go seven points clear at the top. The...

Alisson: 6 Made a good save first 15 when our midfield was getting legged for a bit. Is he shite for the goal" I think he might be shite for the goal there, which is a shame. Fuck all else to do. Milner: 6 Thought he was pretty shite first...

WHEREVER you turned for discussion of the Premier League title race this weekend, the P-word was never far away. Newspaper reports, websites, social media, Match Of The Day, Sky Sports — of the 170,000 or so words available in the English...

BOTTLE. They love goading you with bottle. There are many things you learn when you find yourself setting the pace. The empathy you feel for those who become so invested in your club?s fate due to their own lack of stimulation being one. They...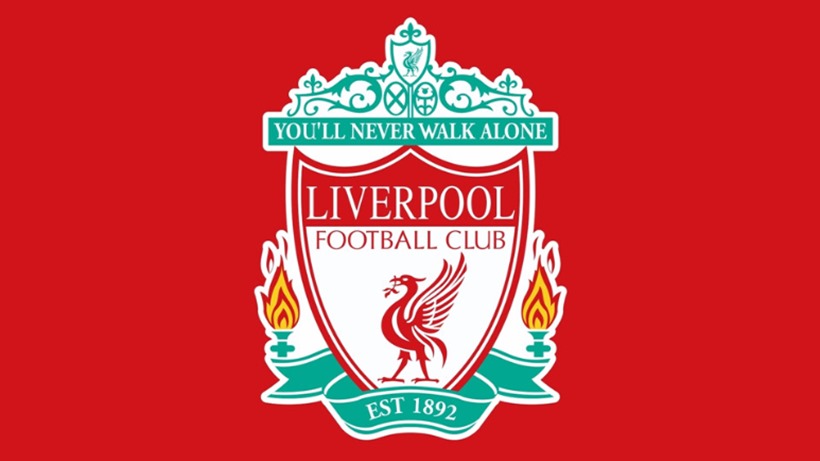 The Friday Show has David Mooney on Manchester City, Chris Waugh on Newcastle United and Jack Collins on Fulham to go with Dan Morgan and Ste Evans in the studio looking at the weekend's fixtures. A lot to get sorted out at the top, middle and...

DISAPPOINTMENT, frustration, but let?s not pretend we are too surprised. Liverpool have produced that kind of passable performance on a number of occasions this season but found a way to win. Last night they didn?t. End of. It?s not too long ago...

ANY matchday where we increase our lead is sound by me. That said, someone hold this bevy while I twat me self over the head with this shovel. Alisson: 7 Give it away a bit first half, but so what" He?s so good at sweeping up lad, his starting...

LIVERPOOL v Manchester City — the prevailing battle. Liverpool v Leicester City — the evening's affair. Mathematics v Feelings — the inner struggle. Had both Liverpool and Manchester City won you'd be bouncing, but we'd be as you...

MY worst memory as a Liverpool fan isn't a final we've lost, although the FA Cup in 1996 was a particularly dark day. It isn't a player leaving, although I'm sure we all have one who broke our heart — hiya, Fernando. It wasn't even...

I HAVE often questioned the ?is the glass half full or half empty"? proverb. Mostly because I don?t think I?ve ever heard anyone say ?half empty? in any other context. I?m not convinced it?s a real saying, like Fred Astaire suggesting that some...

AMONG the favourite go-tos for the football "banter" tribe is the idea of a club?s fanbase ? often running into many millions worldwide ? being ?deluded?. It?s a barb often aimed at Liverpool supporters. You?ve heard it, you?ve seen it, you...

?I fully intended to sign a new contract after the Champions League final, but the events of the past five to six weeks have changed all that.? – Steven Gerrard, July 2005 ?If, at that point in time, I was offered a contract, I most definitely...

I LIKE footballers but they don?t half tell fibs. They obey the laws of the game like I stick to the speed limit — when they think someone is watching. We each draw our own red lines across the game?s rule book. It?s no more than a guideline,...

QUIET, isn't it" Liverpool have gone to Dubai and we are hearing very little out of the camp. The players are off social media, it seems — as if they have been asked to hand their phones in at the start like one of those shit stag dos with...

IT is fair to say that things are currently going well at Liverpool Football Club. Jürgen Klopp, his players and the fans are all on board the SS "Let?s win the Premier League and then find a shorter, sharper name for our metaphorical ship",...

RIO Ferdinand is a strange one, isn?t he" After repeatedly having his arse handed to him on a plate for ill-advised, and frankly wrong-headed, comments about Newcastle United last week, you would think he might want to keep his head down for a...

YOU know you are alive. My lord, you know you are alive. Isn't that the point" It is, but you felt that maybe a bit too much. It shouldn't have been this way. Eight minutes in, James Milner goes on a charging run from back to front, and you...

FOR reasons I can?t go into, I ended up watching it on a stream, in a non-Liverpool boozer, with Jeff and the boys about two minutes ahead of us. Every time there was a cheer, Palace, United, or some other cunts had scored. Every time there...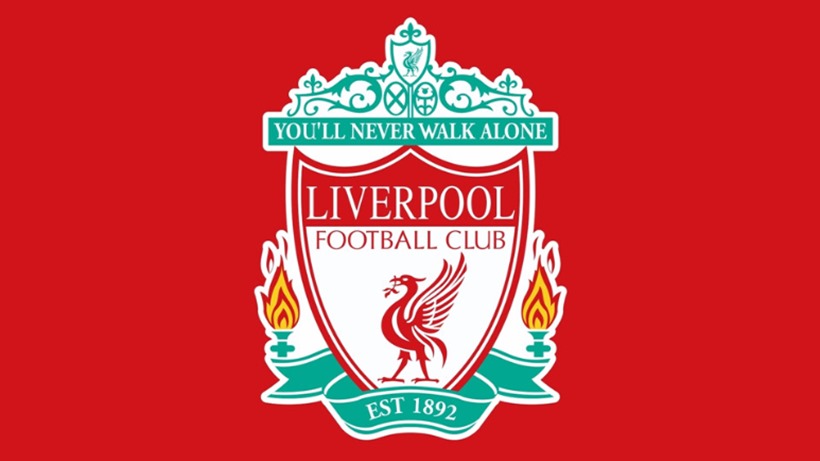 In another extended Weekender we chat about Andy Robertson's contract renewal at the end but before then we get into Liverpool's right back situation, speak to Miguel Delaney about his piece on youth and Germany. We have Courtney Sweetman-Kirk...

I?VE been thinking a lot about outrage lately. I get the feeling outrage has been applied to almost all aspects of daily life in recent years, and as a result we?re in danger of the whole concept becoming neutralised. In a week where outrage...

IT?S nip and fucking tuck time again. We win. They win. But we have the edge. It?s now very clear. Manchester City are very good but Liverpool may just be the more complete football team. In full attacking cry, Pep Guardiola?s side can look a...

LIVERPOOL and Manchester City will not play Premier League football at the same time again until the last day of this season. That?s a prediction rather than a fact at the moment, but Sky and BT have not paid Ł5billion to miss a second of this...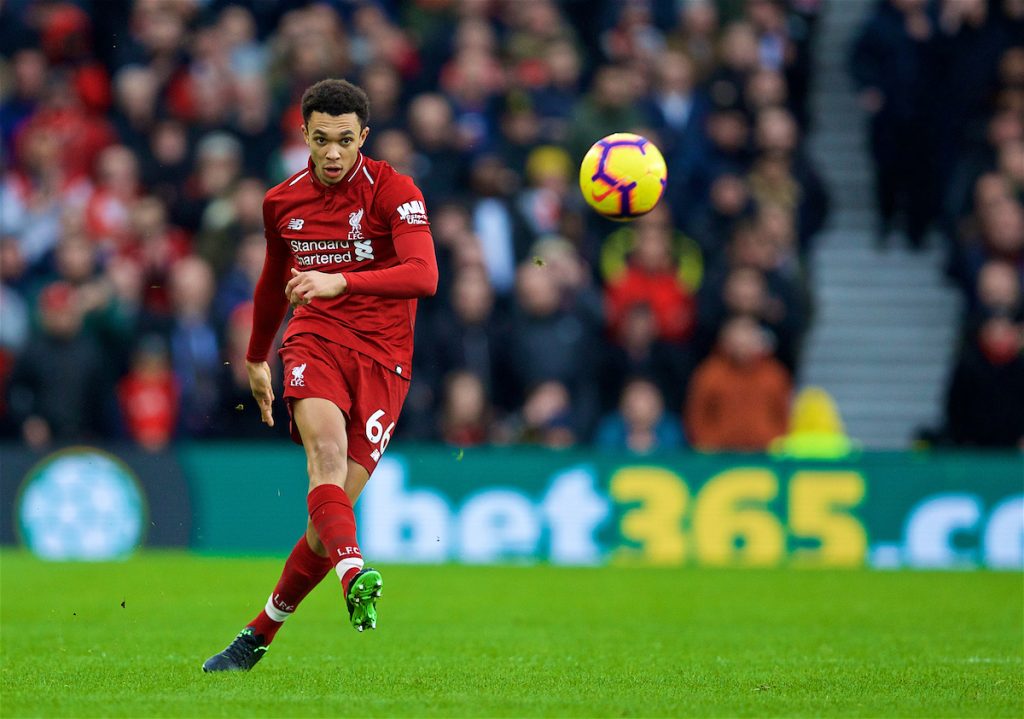 IT?S January 2019. Nathaniel Clyne, signed for Ł12.5m from Southampton in July 2015, has already made two appearances for his new club Bournemouth — in which they?ve conceded five goals. Those two consecutive starts are his first back-to-back...

MENTALITY is something that is often talked about in football but is a difficult thing to measure or pinpoint. There is no rating for each player on FIFA, no YouTube compilations like skills or goals. No points you can tally or score. There...

ANOTHER weekend, another Liverpool victory. Maybe that line doesn?t scan given the 1-0 win at Brighton and Hove Albion followed back-to-back defeats to Manchester City and Wolverhampton Wanderers in the FA Cup, but I stand by it. It was another...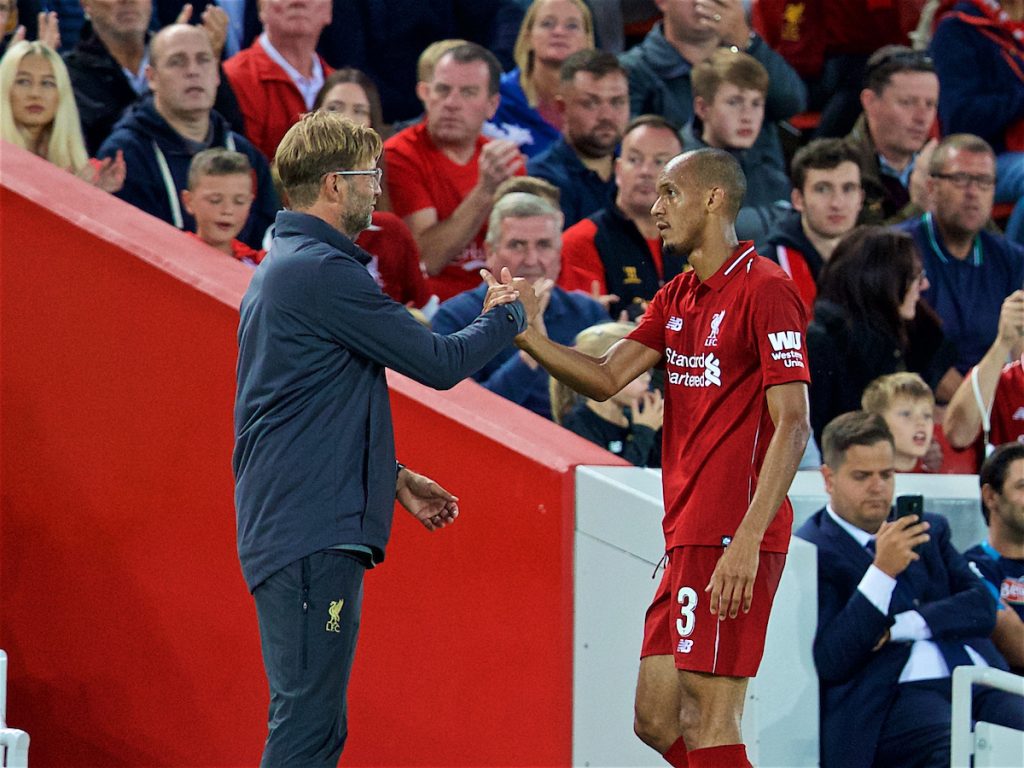 ALL week it had never been far away from the lips of pundits and the fingertips of football writers. The Reds, so the oft-repeated line went, were facing a living nightmare by heading for a tough-looking away at Brighton with only one senior centre...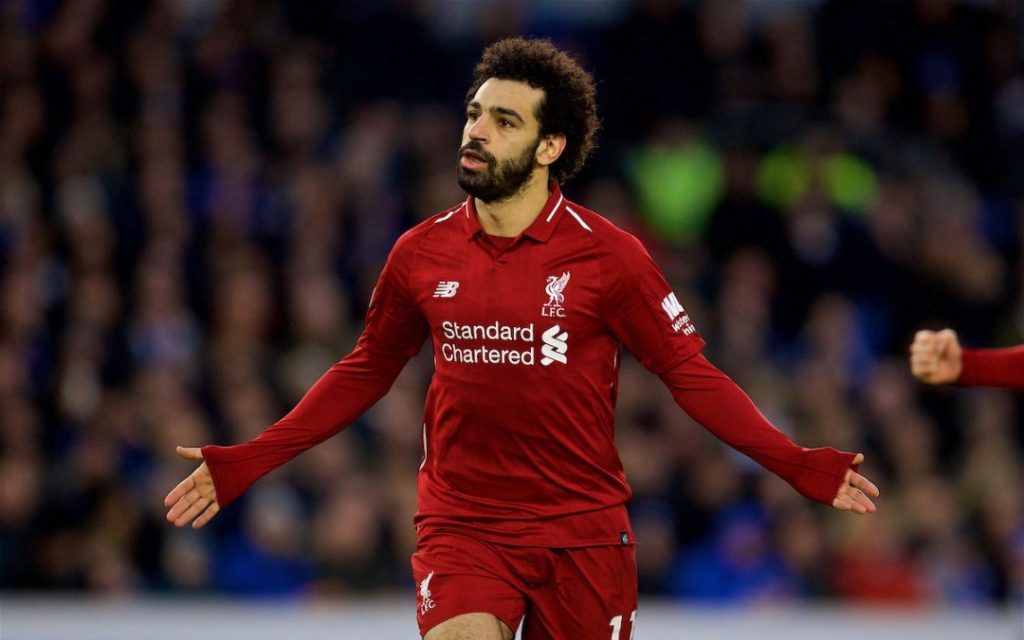 REMEMBER when he was a one-season wonder" When Sergio Ramos was supposed to have broken him beyond repair in the Champions League final" When a few wild shots and quiet games early in the season was proof that he was actually a bit crap" Yeah,...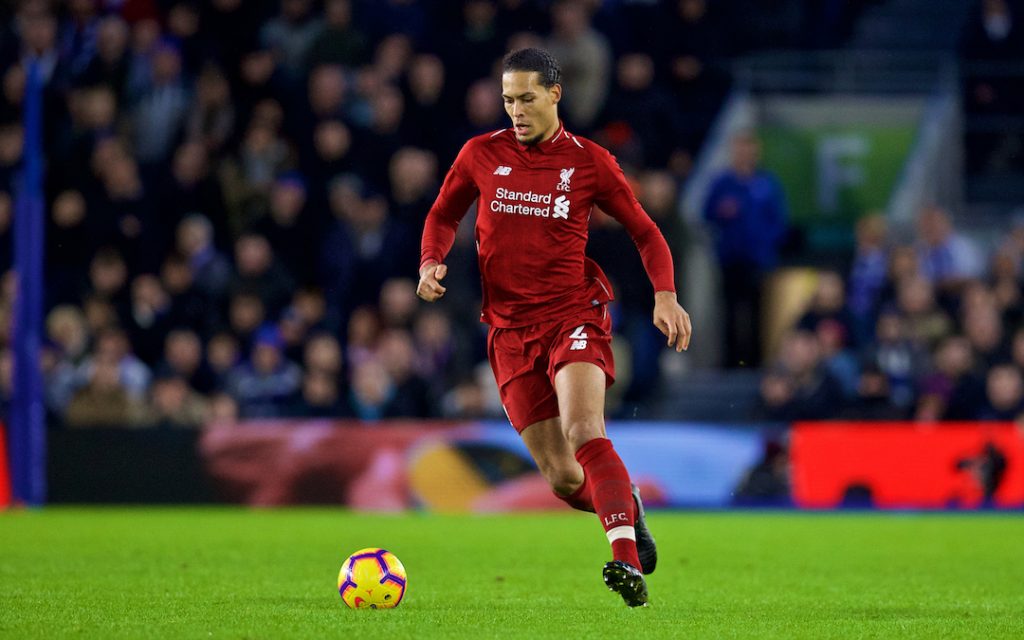 THIS generation of Liverpool supporters hasn?t been short of world-class attacking talent to make a song and dance about. From the Torres bounce to Just Can?t Get Enough to the current hero-worshipping of our little Egyptian King, do the business...

MY pre-game action was a show there, today. Decorating, left it too tight to get ready to get out anywhere, my electric shaver ran out of juice mid use, so watched the first half like a fucking mental case, half a shaved head, half a baldy wool...

PRESSURE. Did you feel it" I know I did. I was a quiet mess before the game and first half. I was a state, quietly bubbling, quietly seeing the worst at every opportunity. How's your bottle" Ask me on 23, there. Gone, mate. Gone. The worst...

I READ an article yesterday which cited this week, the first full working week after the Christmas period, is the one we often find the most physically and emotionally draining of the whole new year. Often seeped in the guilt and lethargy of...

LIVERPOOL's 5-1 win at Brighton last winter was one of my favourite games of the Jürgen Klopp era. The Reds were unbelievable that day. It rained goals. So many, that I missed two going for pisses. I didn?t care though. It was a joyous...

DANIEL Sturridge and Divock Origi have scored the two most important goals of Liverpool?s Premier League season so far. However, they may prove to be their parting shots. Sturridge?s stunning late equaliser at Chelsea in September rolled away a...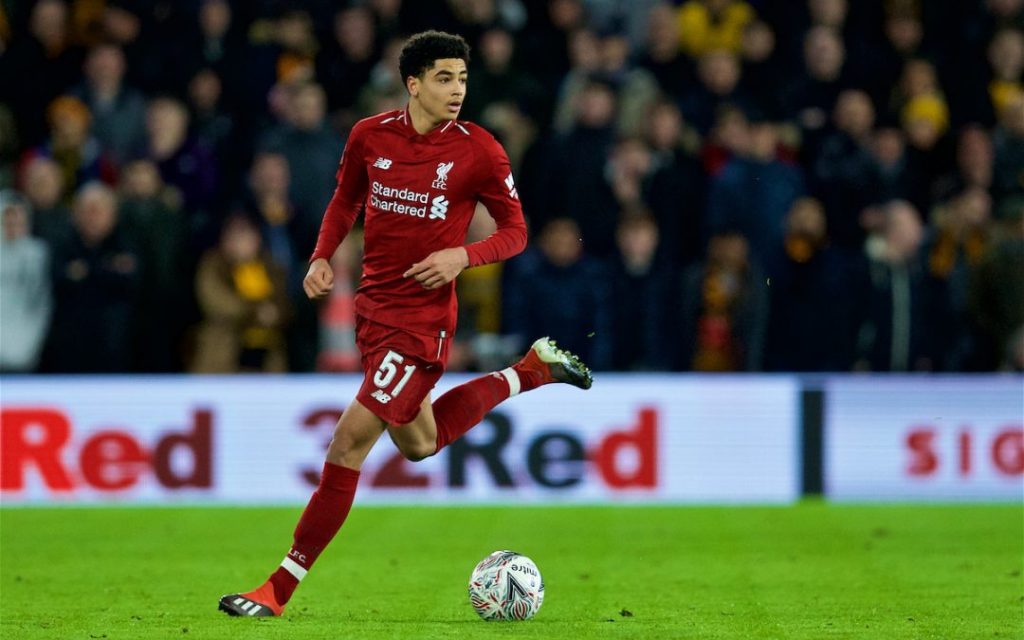 MICHAEL Edwards is a name on a lot of Liverpool supporters? lips. You?d find it hard to argue that praise for him and his crack team of transfer gurus — with manager Jürgen Klopp in tow — is undeserved. When Dominic Solanke was sold to...

FOOTBALL clubs have a complicated relationship with their supporters. They basically profit from the levels of intensity. Someone being a Liverpool "supporter" is one thing. But the term we all prefer is "fan", which is short for...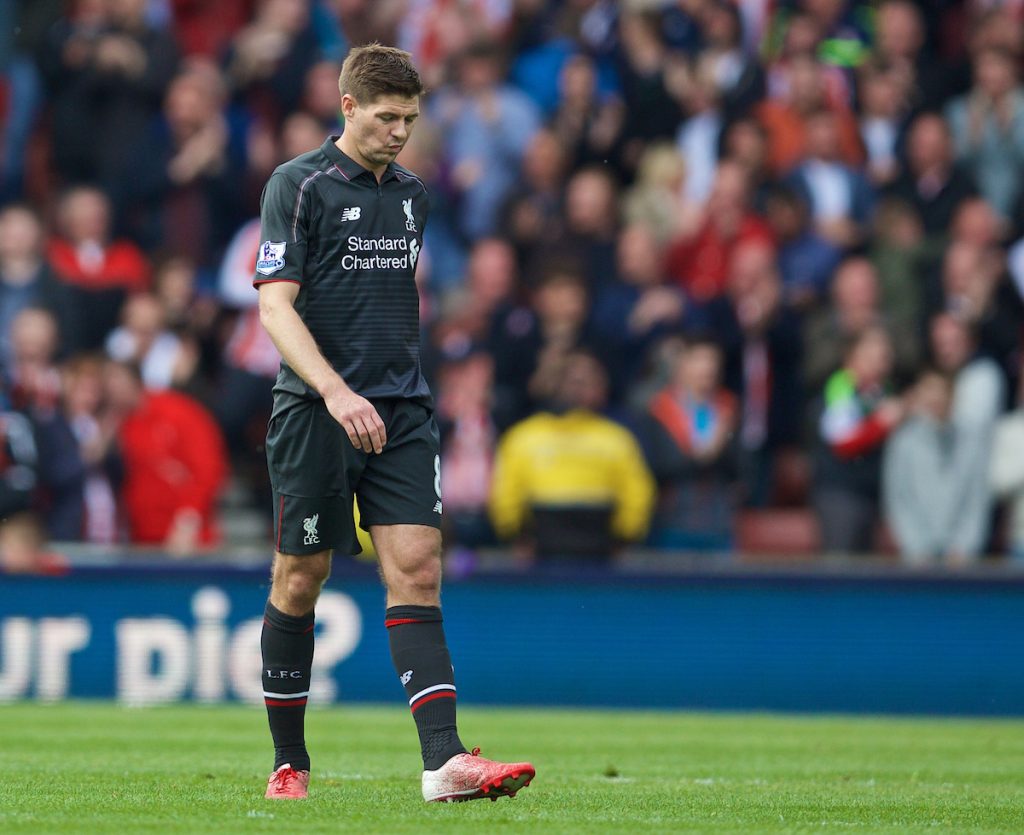 ON his first day as Liverpool manager, Jürgen Klopp made a promise; a declaration of hope. The task would require him to regroup a squad who had lost their identity under Brendan Rodgers and, more importantly, a supporter base who had lost faith in...

WE'LL get to the young lad. Liverpool picked a team who looked like they had never played together before. Wolverhampton Wanderers picked a team who knew exactly what their jobs were. God, could you tell. In the first half especially, you...

IT was a brilliant 2018 for Liverpool. The first half saw them reach the Champions League final in thrilling fashion, while the second half was made up of charging to the front of the Premier League pack. A week into 2019 and they?ve suffered...

JESUS Christ. That first half was pretty bad, weren?t it" Second half weren?t much cop either, mind you. Aye Aye Big Si: 5 I mean, I don?t know. Spent years watching him not be at fault for goals but never making a one-on-one save. The...

I?D like to have ice in my veins. I'd like to be able to say we should just treat this year's FA cup with total disdain. Many years ago though, that competition was good to me and it was good to Liverpool Football Club. Bill Shankly isn?t...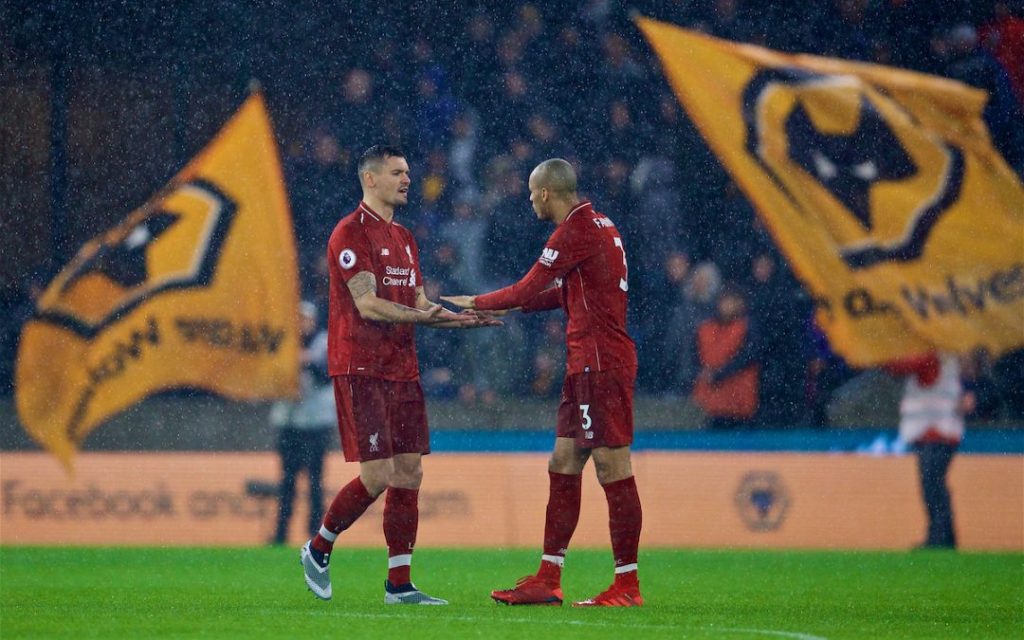 WE?RE here again… That magical time of the year when big teams travel to far-flung muddied fields and fight for the next round and their dignity. That wonderful weekend when minnows can dream and names can be made. The great leveller. FA Cup...

Pre Match THE problem with a free hit is you have got to land the fucker well. I mean, when you think about it, who in their right mind is offering up a free crack" Juice heads and fellas with necks like chimney stacks, that?s who. No one gets...

SO, we?re still top. And it seems they still don?t like it. In the buildup to yesterday?s media-driven hyperbole of a ?title-deciding? game at the Etihad Stadium, which it never at any point was, sections of passionately timorous social media...

GETTING beat hurts. It is rubbish. Hold that close, Reds. Remember that pain. Four clear. Seventeen games to go. Arsenal and City completed. You'd have taken it at the moment when Virgil van Dijk slices the ball towards Jordan Pickford's...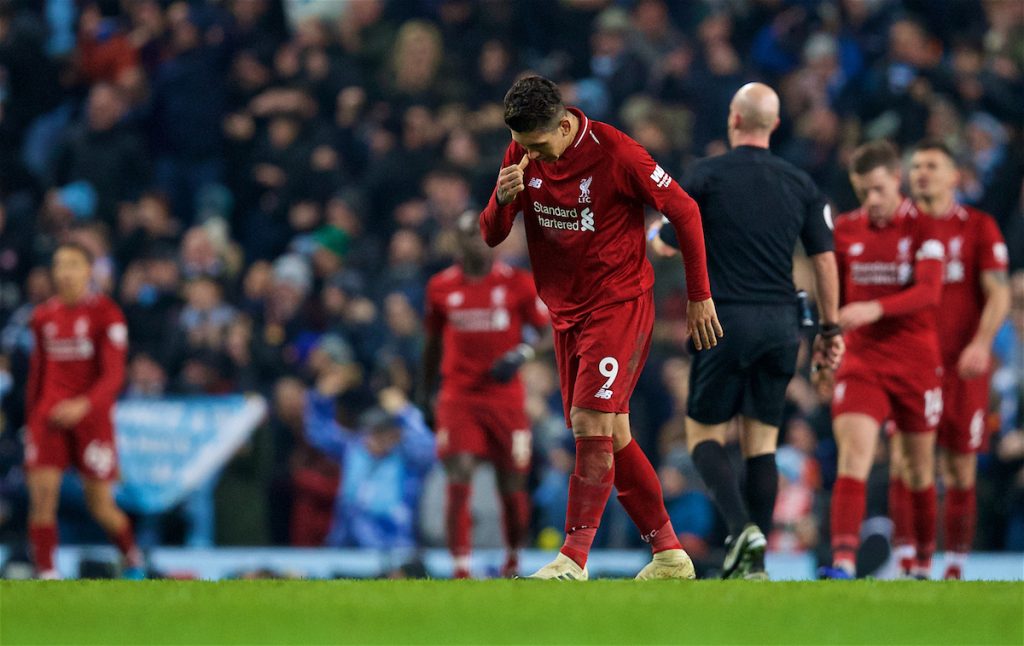 IT is not like it?s the first game Liverpool have lost this season. The defeat in Paris was more damaging at the time and they survived it. This result was bad but the performance wasn?t. It will be dissected in finger-pointing detail elsewhere but...
NEW Year, same old. It only went and happened again, didn?t it" Liverpool finished 2018 by embarrassing Arsenal, again. Bobby Firmino tormented the Gunners, again. On the first day of 2019 Harry Wilson scored for Derby County, again. Few things...

IT'S the 93rd minute at Anfield and the madness has taken hold. The only disappointment is that Liverpool beat Arsenal 5-1, instead of putting six past Unai Emery's dishevelled, ageing cockneys. That is the madness at Anfield just now. We...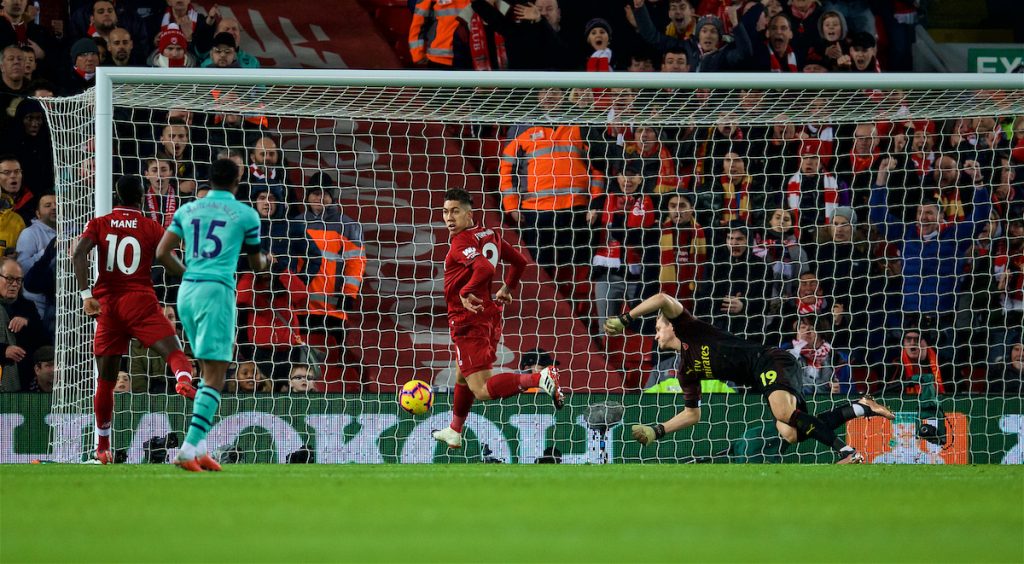 THE tipping point came at Molineux. Or the Molineux car park to be more precise. It was there that Gary Neville conceded that The Anfield Wrap had a pundit better than him. Pep, Poch and the rest knew they were in trouble then. Neil Atkinson?s...

I MEAN, what are we meant to do in between games" Live our normal fucking lives" Are you for real" The greatest Liverpool side seen in our lifetimes, lad. They had a go, there. Pressed high, set traps, risk reward. Got rewarded for the first....

HERE we are again. Face to face with the future we crave. All we?ve ever wanted. What we?ve ached for. It?s carved in angry biro into every fibre of our long-suffering, Liverpool-loving beings. We get up in the morning to win the league. We put...
THE Title Truism… "It's a marathon, not a sprint." It is a marathon and a sprint. It is an 800m race, two laps of the track where you run as fast as you can. It's long distance, it's dead fast. It's tactical, it's breakneck. It's...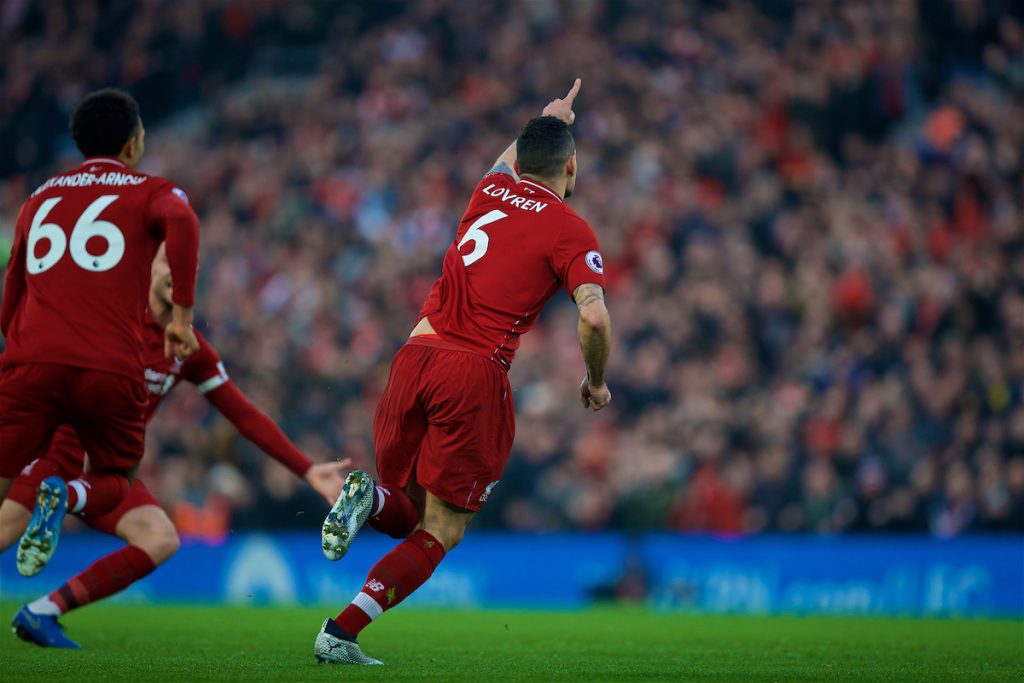 BEN JOHNSON is on Boxing Day family duties today, so we're bringing you alternative Anfield Wrap Christmas ratings. The best minds at TAW have put their heads together to score Liverpool's most important lads from the day The Reds went six...

I HOPE you?re reading my preview a bit pissed and soaked with Christmas cheer. That way you?ll be kinder with me and my flow. I?m not sure exactly where I?m going with this other than to say it will be off somewhere near the deep end. Keeping it...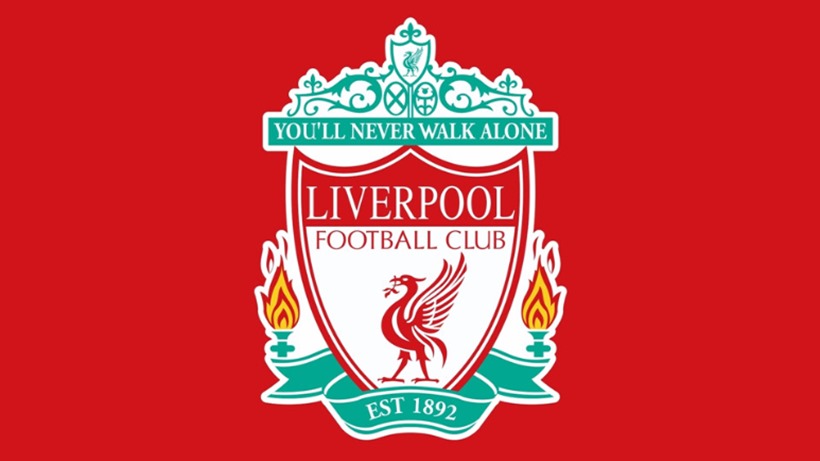 Liverpool top the tree at Christmas and what a time to be alive. Joining Neil Atkinson for immediate reaction to Liverpool's win at Molineux are Dan Sheard, Alison McGovern, Dan Austin and Shaun Walsh. To hear the full version of our immediate...

Alisson: 8 Makes a good save that looked like a shite save first 15 there, sneaky little deflection. Makes everything look a piece of piss. That chance where Robbo back heeled their lad in with five to go; he doesn?t save it, doesn?t need to,...

IT teemed down. It bounced down. It danced down. And you're damn right we danced. Fucking hell, that was glorious. And fucking hell it was. Mad Friday and a mad Friday night in Wolverhampton, possibly the best night out in Wolverhampton that...
I DON'T know about you, but I've done a lot of looking at the table this week. Maybe it is the Christmas wind down where you don't really do anything important, in a "fuck it, that's 2019's problem" kind of way. Or because, thanks to...